Tyne, Wear and Tees Boxer Club are pleased to now be a part of the Lincolnshire, Essex, Trent and Tyne Wear and Tees Boxer Rescue.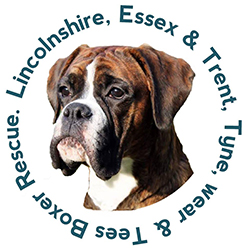 Boxer Rescue in the Tyne Wear & Tees region has been operating for a number of years now, firstly by Joan Smith from Middlesbrough. Essentially this was on behalf of the Northern Boxer Club but she took dogs from the Tyneside area as well. In 1985 Sue & Clive Oddy saw a need for Rescue in the north region and with the backing of the Tyne, Wear and Tees Boxer Club the Rescue became what it is today. Now, however, the baton has been handed over to the members and committee of Tyne, Wear & Tees Boxer Club under our new Co-ordinator Mr Alan Cuthbert and we hope, with your help, to carry on the high regard in which Boxer Rescue is held.

Changes in our ways of working have been necessary. Response was previously very quick when a dog needed to be re-homed – usually within 48 hours. Now, unless the case is urgent, most are left for a period of time to give the owner a chance to think about their actions and, in some cases, suggesting alternative remedies for the problem. This seems to be working and has cut some of the numbers of dogs needing to be re-homed.

Ideally, each dog should be assessed prior to re-homing as not all owners tell us the truth. Prospective homes should all be visited to assess their suitability and follow up checks should be made afterwards. Practice and finances makes this impossible. Although we are one of the smaller Rescues in terms of dogs re-homed, we have one of the biggest geographical areas to cover, bounded by the borders in the North to a line drawn roughly between Whitby to Northallerton in the South.
The reasons for re-homing are many, the majority being for marriage/relationship breakdowns or for changes in working practices where the dogs are left for many hours on their own: these are relatively straightforward to deal with. The more difficult cases are from those who have never socialised their dogs or kept them confined, resulting in dogs that don't like other dogs or people/children, dogs that are destructive or that are frightened of noises or anything else that is strange to them. Lastly, there are those that are found as strays, their owner has died and those that subject to cruelty or abuse.
Due to constraints on time, we have shifted our emphasis about those who purely need re-homing by matching them up with what we hope are suitable new owners and putting these people directly in touch with one another, leaving us free to deal with those from the other two categories. Regardless, however, it all takes time and finance.
We need you help and this can be done in two ways, directly and indirectly.
Directly
Would you be willing to visit and asses a dog for us, visit a prospective new owner and maybe carry out a follow up visit at a later date, or help transport a dog. We already know that there are some Club members we can ring and ask those questions and they are carried out almost immediately. You can add your name to this list of people.

Indirectly
When you breed a litter of pups, would you please consider endorsing the registration "Not to be bred from". The reasoning behind this is that each year there are over 1000 Boxers that pass through Rescue nationally. This does not include those re-homed by the RSPCA, NCDL or other Welfare Agencies.
You may well say "It's never my dogs that end up in Rescue". In this region, its certainly true, that there are only a small number of dogs that come into Rescue as a direct result of Club members. Those that do, will receive a courtesy call to say we have one of their dogs and will be re-homing him/her. However, when we take a closer look at pedigrees we retain when a dog is surrendered, we find that some Club members dogs are featured two or three generations down the line. By endorsing your pedigrees you will force owners to come back to you to lift the endorsement and therefore, you can cut out indiscriminate breeding.
When selling a pup please ensure that the new owner is actively encouraged to take their new pup to training classes where it will be socialised. This will help cut the numbers of antisocial dogs we deal with.
Thank you for taking the time to read this and if you feel you can help us, please contact myself using the above details, or the club secretary.
Please help us to look after the breed we care for.
Ian Basnett
Rescue Co-ordinator